In the Permian and Bakken, production engineers deploy Endurance capillary services to improve well productivity and the downhole run life of artificial lift equipment. Through these solutions, operators are treating downhole conditions at the point of failure and realizing tens of thousands of dollars in lease operating expense savings, such as improved run life and reduced service rig call-outs.
Capillary Equipment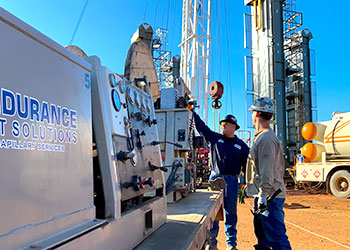 Downhole Injection Valve
The ELS – 8000 valve is capable of holding up to 3500 psi back pressure. This device functions as a high pressure spring loaded check valve thus reducing the possibility of free flowing chemical into the well and back flowing into the capillary tubing due to changes in well and tubing conditions or pressures.
Injection Manifold
Prevents particles or solids at surface from plugging up downhole chemical line
Back pressure valve to allow desired pressure to be applied to chemical pump
Installed anti-siphon valve
Surface manifold support bracket
Capillary Metallurgies
Duplex 2205 (low chlorides, low pH, low temps)
Alloy 825 (higher chlorides, low pH, higher temps)
Alloy 625 (high chlorides, higher pH, high temps)
Banding Material & Cannon Clamps
Monel, Stainless Steel and Zeron Stainless Steel
Chemical Injection Mandrel
J-55, N/L-80 and P-110 available in 2-3/8in, 2-7/8in and 3-1/2in
Capillary Injection TAC
Quarter turn to set and pick up to unset
NACE approved for H2S and CO
Capillary Injection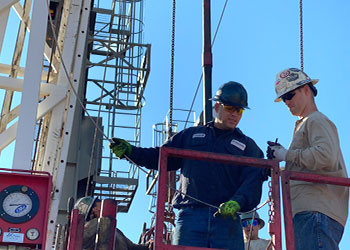 Leading-Edge Capillary Spooling Trailers
Onboard fluid tank for pressure testing and displacement of chemicals
High-pressure pump for pressure testing capabilities at the well site prior to, during, and post installation
Certified capillary sheaves
Onboard pneumatic banding guns
Fully automated speed controller to adjust spooling speed to ensure proper tension in the capillary string during installation
Full-Service Shop
Computer pressure testing of capillary string
Inventory, test results and service technician reports along with video and pictures stored in Endurance's Well Intel™ system with full customer access
Orbital welding machine fuses capillary lines together, enabling our customer partners to maximize owned inventory