The answer to mechanical wear, abrasion, and corrosion.
BLAZE® is a leading-edge Thermal Boron Diffusion technology that uses a proprietary chemical formula to produce a slick, abrasion-resistant, and corrosion-resistant surface.
BLAZE creates a highly uniform surface with no change in original part dimensions. The BLAZE surface will not flake or chip under impact and poses no risk of delamination ("bonding breakdown").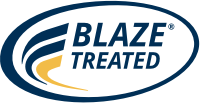 A revolutionary surface treatment, not a plating or coating
Overcoming production challenges
Mechanical wear, abrasion, and corrosion are significant production challenges in any artificial lift environment. These challenges have a significant negative impact on the longevity of artificial lift equipment. BLAZE surface technology makes artificial lift equipment last longer, provide corrosion protection while dramatically increasing the efficiency of artificial lift operations.
BLAZE Coating technology enhances the life span and optimizes performance of artificial lift equipment subjected to mechanical wear, corrosion and abrasion.
Low Coefficient of Friction
Surface provides reduced coefficient of friction over base metal and competing coatings – permanent lubrication regardless of load
Abrasion Resistant
1800-2300 Knoop | 116 Rockwell C (extrapolated)
Corrosion Resistant
Enables longer life in challenging downhole and surface conditions facing CO2 and H2S
Compatibility across materials and products
BLAZE® is compatible with a wide range of materials including cast iron, mild-carbon steel, chrome-moly steel, and stainless steel. BLAZE can be applied to a variety of Endurance Lift products to provide corrosion protection and prevention of abrasion including plunger lifts, motor valves, downhole rod pumps, sucker rod couplings, ESPs, and more.
See BLAZE products.
WANT TO KNOW MORE ABOUT BLAZE?
TALK TO AN EXPERT