Endurance bypass flow plungers are designed to fall against the natural flow of the well, allowing the plunger to make more cycles per day than conventional plungers. This improves the ability of the plunger to remove fluid from the tubing, and lowers the build-up of fluid slugs that can accumulate at the bottom of the tubing string. As a result, the system is dependent on critical flow rates vs. build-up pressure to maximize performance.
Bypass plungers operate using a valve mechanism. When the plunger falls to the bottom of the well, the bumper spring closes the valve in order to create a sealed surface, allowing the plunger to travel back to the wellhead lubricator. Once arriving in the lubricator, the valve is actuated back open and the plunger begins to travel back down the well to initiate the next cycle.
Hi-Flo™
These plungers are designed to fall against flow to minimize or eliminate shut-in time. They help force out fluid that can collect on the tubing walls—thereby boosting output. Many customer partners select the Blaze® Hi-Flo, which provides significant run life improvement over conventional Endurance options as well as all competing options on the market. By improving run life, operators can recapture lost time spent measuring and changing plungers and improve the cash flow profile of every well.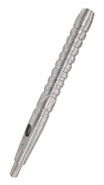 Sliding Sleeve
This type of bypass plunger is ideal for wells flowing less than 750 MCFD or experiencing liquid loading problems. It can run continuously, on a quick trip cycle or in conjunction with continuous flow gas lift. Selecting a Blaze sliding sleeve enables gas companies to experience enormous benefits from run life expansion, field service time and production slippage.