The practice of injecting gas into wellbore tubulars to aid in removing liquids from wells has been around for years. Various techniques have been used to create favorable operating conditions, allowing wells to produce economically for extended periods. More specifically, these solutions accelerate bottom hole pressure reduction to increase production in horizontal wells. However, as liquids decline, operating pressures, gas injection rates, compression and associated surface equipment costs all increase—ultimately making the well uneconomical to operate.
Endurance Lift Solutions offers the experience and technology to make gas assisted plunger lift (GAPL) solutions as efficient and productive as possible. Combining proven gas lift and plunger lift technologies represents one of the most cost-effective applications available for wells currently operating on gas lift.
How does GAPL work?
The plunger provides a mechanical interface between the gas and liquids. Primarily, this keeps gas from blowing through liquids as both rise to the surface, enabling the plunger to lift a full load of oil/water on every trip. Because there is little to no shut-in time, the plunger lift works seamlessly with the gas lift valve. Ideal applications for this approach are identified based on several factors including gas-to-liquid ratio, fluid production, and casing and wellhead pressures.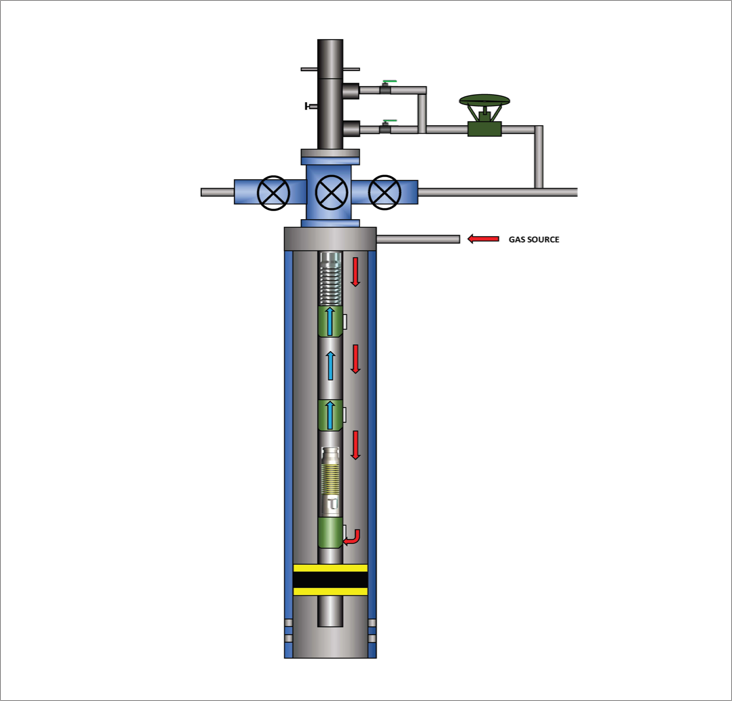 What are the advantages of gas assisted plunger lift?
GAPL reduces some of the most common velocity lift inefficiencies, including over-injection and liquid fallback, to improve the overall performance of gas lift systems. Typical advantages include:
Low capital investment, plunger maintenance and LOE
Higher oil and gas production
Greater gas lift efficiency through reduced injection and/or increased productivity
Works with lower flowing bottom hole pressures
Provides a control mechanism for paraffin and scale to mitigate hot oil and/or slickline
Reduces injection pressure
Stabilizes flow rates and returns operations to a more natural formation decline rate
Target candidates?
Gas lift applications having issues with paraffin, scale and/or hydrates
Horizontal wells with slugging flow conditions
Gas lift applications using continuous injection
Gas lift applications using intermittent injection
"Poor Boy" gas lift where gas is circulated without a packer/valves
Chamber lift applications for long perforated intervals
Wells producing <300 BFPD for 2-7/8" tubing and <200 BFPD for 2-3/8" tubing
Wells that share common injection facilities
Endurance GAPL Solution
Our plunger lift platform includes a suite of tools to complement gas lift installations and drive significant upside for our customer partners. Frequently, the next phase of enhancement for gas lift includes adding a plunger to extend the life of the gas lift operation. While compression may still be required to keep system pressure down, the incremental investment in a plunger lift system could be an option for as little as several thousand dollars. The alternatives are making a much larger capital investment, such as a rod lift system, or shutting in the well.
On pad installations where multiple compressors are injecting into multiple wells, required compression horsepower will be reduced due to the decreased injected gas volumes and pressures. This reduction in horsepower can make a substantial impact on operating expenses and generate positive returns. The addition of the plunger interface improves lift efficiency and mitigates gas breakthrough—especially for deep and horizontal installations, which translates into less gas injected and greater productivity.
Additionally, the higher cycle frequency of the plunger reduces the average head pressure per cycle, yielding greater pressure drawdown on the formation. Endurance's Blaze®-treated plungers allow higher plunger cycle frequency and extended plunger life for greater returns.
Plungers—particularly those that are Blaze-treated—will extend your invested capital in gas lift while enabling you to benefit from our proprietary technology. Running Pacemaker® sleeve plungers or large bore Hi-Flo dart plungers allows continuous flow or intermittent gas lift with minimal risk. Depending on the level of training and operating experience, adding the plunger to a declining gas lift system can conservatively boost production by as much as 20% while lowering injection rates by 25-50%. Endurance provides in-depth technical training to enable our customer partners to achieve these results, day-in and day-out.